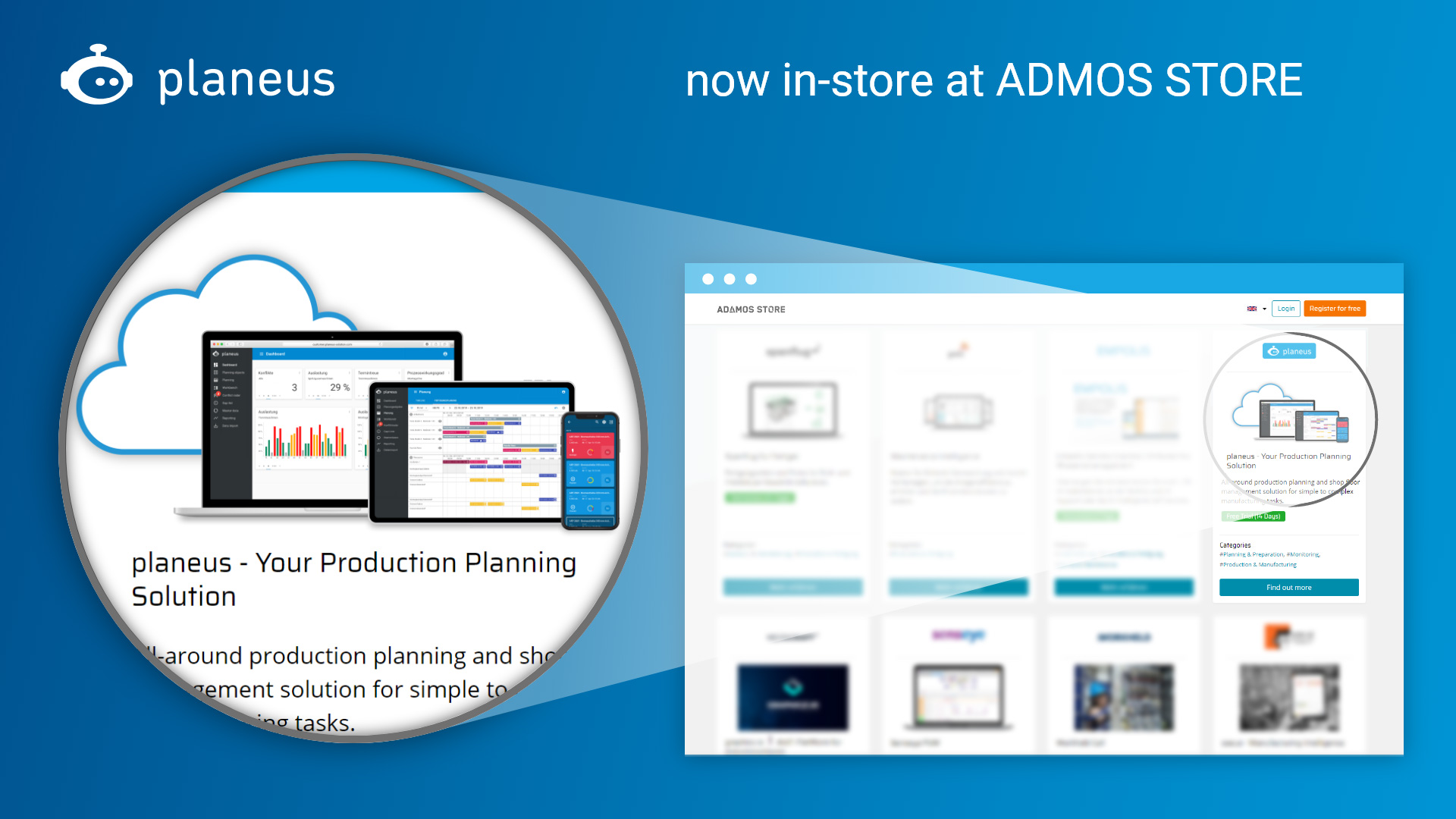 planeus — Your Production Planning Software – now in ADAMOS STORE!
"Plan the production plan proactively" — is the everlasting challenge for every manufacturer in the sector. To help businesses better manage their complex production processes in a future-oriented way, we at th data are very excited to join forces with the manufacturer-independent marketplace ADAMOS STORE by featuring our industry-proved scheduling system planeus — which is also wholeheartedly crafted for modern day manufacturing — on the ADAMOS platform.
Planning with pen and paper is the thing of the past for the majority in the industry. As a result, many have been looking for a digital solution to visualize manufacturing plans, optimize the teamwork on the shop floor, and support the employees in their day-to-day operations. Thus, planeus strives to end the prolonging search by helping manufacturers of all sizes to reach their new production standards. As a native cloud software for production planning and control, planeus saves precious work time with its intuitive interface and helps manufacturers cut costs with its scalable SaaS model. Via the modular structure of planeus, users can assign the right functions to the right employees among the multiple layers of production.
Today's manufacturing solutions should always put the main focus back on their users, and software that refuse to care for their users' needs and experience will hardly be desirable. planeus offers essential and smart features in a user-friendly design as well as proven capabilities on all levels of manufacturing planning in the industrial circumstances. planeus's featuring in ADAMOS STORE has further strengthened its principle: A target-oriented and smart automation with the true benefits that empower the user's use of value-adding applications.

Stefan Zeeb, CEO of th data GmbH
ADAMOS offers a transparent, open, and independent marketplace for the manufacturing industry to enjoy a rich collection of pre-integrated, digital solutions at one glance. ADAMOS broadens the customer's access to the available solutions, smoothens their integration processes – and most importantly, unlocks the full potential of industrial digitization.
With planeus, we can offer our customers an attractive and new solution in the field of production planning via the ADAMOS STORE. Productivity potential lies deep in every business. Thus, the ADAMOS STORE empowers the users with a vast library of production applications. The ADAMOS HUB also sets standards in terms of application consistency and networking. Our offerings are dedicated to small and medium-sized companies that do not have the capacity or resources for sophisticated integration projects or access to their own IIoT platforms. The goal is to make the smart and digital factory a reality, step by step and via various apps.

Marco Link, Managing Director of ADAMOS GmbH
About ADAMOS
ADAMOS offers a marketplace including networking technology for the efficient and straightforward deployment of industrial digital solutions. The cross-vendor digital marketplace helps manufacturers ease the acquisition of industrial apps, while ADAMOS simplifies the use and management of data and apps via its networking technology.
ADAMOS is precisely tailored to the needs of industry and manufacturing companies. For XaaS solution providers, ADAMOS offers a sustainable scaling program; for manufacturing companies and leverage for profitability enhancement.
For more information on ADAMOS, please visit: www.adamos.com or www.adamos-store.com
About th data
th data GmbH is a Berlin-based software company that combines experience and business dynamics in all its projects. For more than 20 years, th data GmbH has been developing software for medium-sized and large companies in the manufacturing industry. This young-at-heart company is driven by agile methodologies and modern development environments as well as flat hierarchies and work enjoyment.